I might talk about how old I am, what I look like, and what I do for a living. (I'll try to be truthful!)
Epa...od kaj da pocnam...pa visoka sum metro i kasnato cebapce ali zatoa uvek nosam visoki potpetici (opticka varka ti e toa...)
Imam kafeavi oci ama sakam da si gi farbam pa site sliki mi se obraboteni u photoshop.
Za kosata ne znam so da kazam oti ni jas ne znam utre kakva ke ja ofarbam.Ama najdobro mi stoi plava...(rodena plavusha so crn koren.
Ustata mnogu sakam da mi e golema ama ne mi e...

Pa me rodile vo Stip,tam si ziveev do pred edna godina si ucev nizo muzicko,sredno muzicko i aj na fax u sk.I me pratija u sk bozem da ucam ama...jas si najdov drustvo,si najdov rabota i si furam taka...si uzivam i si pravam so mi tekne...si rabotam u internet cafe i mnogu si se druzam so lugjeto od zaebancijata taka narecena "irc"
I might also include some information about my personal history: where I grew up, where I went to school, various places I've lived. If I have one, I'll include a picture of myself engaging in an activity I enjoy, such as a sport or hobby.
ova sigurno ne sum jas (da bev jas sigurno nemase sama da stojam u taa pustelija-patam od osamenost)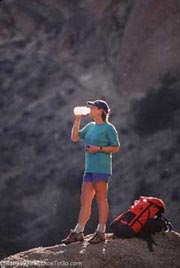 I might describe my job in a little more detail here. I'll write about what I do, what I like best about it, and even some of the frustrations. (A job with frustrations? Hard to believe, huh?)

Favorites

Here's a list of some of my favorite movies:;br>
Jules and Jim, Manhattan, Breaking the Waves

epa aj te da vi kazam koj mi se omileni filmovi.potocno crtani...

Here's a list of some of my favorite music:

Nirvana, Frank Sinatra, Ibrahim Ferrer